As a veterinarian I have had to deliver the diagnosis of cancer too many times, feeling helpless as I relayed details about treatment options and statistics for survival times. And when my husband and I were faced with those same decisions, I cannot explain the overwhelming powerlessness we felt, determined to do what we could for our best friend but being horrified at the prospect of putting her through amputation.

Kate was the light of our lives – a truly 'once in a lifetime' friend. And at the age of 10 we were sure not yet ready to be faced with life without her in it. We have never regretted the decision to amputate her leg because we knew with all our hearts that she would have wanted every chance to be with us for as long as she could. Amputation along with chemotherapy were ways we could assure we did everything we could to fight for her. And with our love and support we knew we could all get through the physical hardships together. She adapted extremely well, learning quickly to walk and run, taking in stride the added effort getting around involved.

Sadly the cancer took her from us September 16, 2002 nine months after the diagnosis of cancer. We always knew from early on that we were blessed by each day we spent with her and we will miss her for the rest of our lives.

We established The Kate Koogler Canine Cancer Fund to honor her memory and to raise money for bone related cancer research. It is our hope and goal that by determining why certain breeds and size dogs get bone related cancer, we can help treat and prevent other owners from being faced with similar decisions like amputation before losing the ones they love. Additionally, understanding and managing these cancers in dogs help treat cancer in humans. Comparative oncologists are using naturally occurring cancer in animals to understand environmental risks, examine genetic / familial determinants for predispositions seen in some dog breeds and evaluate novel therapeutic strategies for a variety of cancers in humans.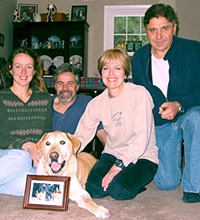 Clare and Ken with Jessie who were brought from Toronto Canada to meet us through the presence of this site (and we like to think Kate had a paw in the meeting as well).



Kate's Fund is specifically designated for osteosarcoma and chondrosarcoma research in the hopes of finding ways to treat or prevent bone cancer in dogs. Your donation will go a long way toward helping us to meet our objectives and allow us to maximize our donations to bone cancer research. For more information about the fund or cancer in animals please visit Dr. Modiano's web site at the University of Minnesota, Colorado State University Animal Cancer Center, or The Animal Cancer Institute. We are planning a number of fundraisers over the coming year. Take a look at our most recent fundraiser, a motorcycle ride, which was one of the many things Kate loved to do.